The Most Wonderful Time of the Year
An original holiday crossword puzzle.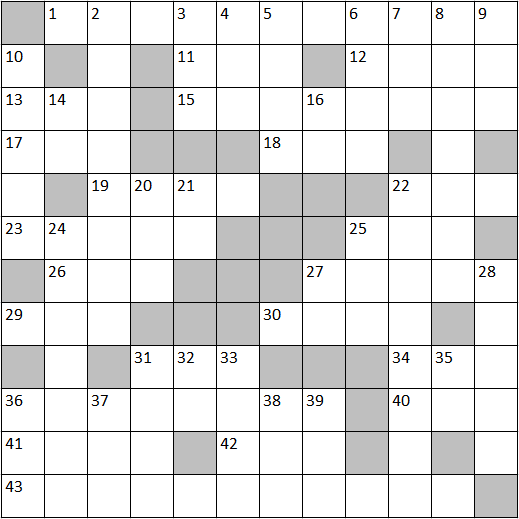 ACROSS
1. They might herald Santa's approach
11. Not fast, as in video speed
12. You may do this with holiday packages
13. The lamp stand was one, in "A Christmas Story"
15. With the wrong soap, your load might be this
17. One, south of the border
18. Contraction in "Deck the Halls"
19. Like a star, or an expecting mother
22. As a candle once the match has been applied
23. One of flowers, or of water
25. A thief or a nose may do this
26. Uncooked or unhealed
27. Mary had them at the first Christmas
29. Christmas dinner protein, maybe
30. To join carolers
31. A follow-up to an addendum
34. Popular Christmas tree
36. A reclusive northerner, any other time of year
40. American chant, often
41. To avoid the risk of
42. Jura-to-Rhone waterway
43. AKA Santa Claus
DOWN
2. A message sent with colored bricks, perhaps?
3. Career suffix
4. 20-across, commercially
5. You might have one at a party
6. Large flightless birds
7. A young boy
8. A common holiday activity
9. Of a fox or a sneak
10. These may dance in heads
14. Half of em
16. Yes, in Mexico
20. It can be laid down
21. Expression of dismay
22. You may get one of crisp air while skiing
24. A reindeer name
25. Past tense of 25-across
27. Circumference divided by diameter, so to speak
28. First Christmas bedding
31. They can visit Santa at many malls
32. Not offensive
33. A tree topper, often
35. To be, third person present singular
36. AKA Reindeer
37. IATA code in Shetland
38. Son of Jr
39. Fox competition